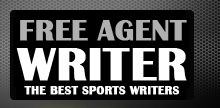 Yankee Addicts
Categories
Featured Sponsors
News published by
April 26, 2010
Yes, I know... the 2010 NFL Draft is barely over and we're already talking about the 2011 selections. But this is the NFL, and teams still have plenty of needs ...
April 5, 2010
Easter's trade of Donovan McNabb from Philadelphia to Washington changes a lot on the draft board. The Redskins, who had called Notre Dame's Jimmy Clausen in for a weekend workout ...
April 5, 2010
Reports late Sunday are that the Philadelphia Eagles have traded veteran quarterback Donovan McNabb to their division rival Washington Redskins. The Eagles will receive the Redskins' second round pick (#37 ...
February 25, 2010
This is my third and final pre-combine mock draft, and I'm going to work under the same rules I've used before: no assumed trades, despite how badly some teams want ...
February 22, 2010
According to ESPN's John Clayton, the San Diego Chargers have released arguably the best offensive player in their franchise's history, LaDainian Tomlinson. After nine seasons, 12,490 rushing yards, and 153 total ...