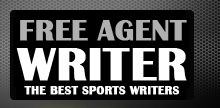 Yankee Addicts
Categories
Featured Sponsors
News published by
September 11, 2010
First off, I'd like to say that I was disappointed by the Vikings performance against the Saints.  Favre and the receivers could not connect and their d-line seemed to be ...
June 12, 2010
So many questions come to mind when I think about Michael Griffin. Is he as good as I thought he was? Can he repeat his 2008 season? Do the Titans have ...
June 7, 2010
On offense, one of the most important positions is the running back. The running back is the backbone of a team. A good running back can single-handedly demoralize ...
May 26, 2010
The Titans have been looking for a legitimate No. 1 receiver ever since they let go of Derrick Mason back in 2004.  Every season, I hear the Titans need ...
April 26, 2010
The Tennessee Titans are a team that has relied heavily on a stout defense in passed years. In 2008, they ranked seventh in yards allowed and second in points allowed.  ...
April 10, 2010
In my personal experience, unless you are a Titans fan, most people have never heard of Keith Bulluck.  For those who do not know, Keith Bulluck has played outside linebacker ...
February 15, 2010
Okay, so first off this is not an article simply claiming that Chris Johnson is better than every other running back.  I am simply stating what makes him different and ...