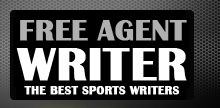 Yankee Addicts
Categories
Featured Sponsors
News published by
April 25, 2010
Oregon running back Legarette Blount wasn't drafted by the San Francisco 49ers, but he did sign as a free agent on Saturday night to round out a group of incoming ...
April 17, 2010
Before you throw your computer throw the wall, watch "ESPN Sportscenter Special: Jon Gruden's Quarterback Camp," where former Super Bowl-winning head coach Jon Gruden meets with ...
March 29, 2010
There's no question that the acquisition of Pro Bowl quarterback Donovan McNabb would represent an incredible upgrade over Alex Smith, David Carr, and Nate Davis. McNabb's a proven star. He's a ...
March 24, 2010
The Oakland Raiders might be interested in acquiring Donovan McNabb from the Philadelphia Eagles, but folks are quick to point out the improbability of such a deal. To check out my ...
March 20, 2010
The four most discussed topics among 49ers fans all tie directly to head coach Mike Singletary:   1. Without a collective bargaining agreement in place for 2011, there's no way to ...
March 12, 2010
Can't believe that a former No. 1 overall draft pick who starts at quarterback for an NFL might lack self-confidence? Believe it. San Francisco 49ers' beat writer Matt Maiocco of the Santa ...
March 9, 2010
It's chic to say that Jerry Rice is the greatest player in NFL history. (OK. You nod your head in agreement and think of your favorite Rice moment in a 49ers' ...
March 8, 2010
New San Francisco 49ers quarterback David Carr is only 30 years old, making him five years older than Alex Smith, but really, they're almost the same guy. They were both chosen ...
March 7, 2010
The run-up to the 2010 NFL Draft, naturally, has everyone interested in the San Francisco 49ers thinking way too much and ignoring the simplest path to determining who the club ...