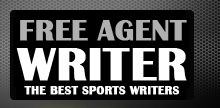 Yankee Addicts
Categories
Featured Sponsors
News published by
April 21, 2011
Spend enough time studying players entering the 2011 NFL draft and you will actually find yourself thinking about them while you're lying in bed at night. If you've focused on the ...
April 17, 2011
The San Francisco 49ers and their fans might want to think outside the box as the organization tries to find a quarterback (or two, or three) to play for head ...
April 9, 2011
The San Francisco 49ers got good news and bad news from folks who know the NFL and how things should go in the upcoming draft. Bad news? NFL Network analysts Charlie ...
April 5, 2011
Eric Davis starred at cornerback for the San Francisco 49ers' last Super Bowl champion, and hopes he'll be on hand when the club wins its next title. The former defensive back ...
April 4, 2011
It's chic to imagine that media types, professional and amateur, understand enough to make the case the San Francisco 49ers should take cornerbacks, linemen or receivers early in the NFL ...
September 29, 2010
The San Francisco 49ers' fall from NFC West favorite to team on the brink is explained pretty simply. The York family ownership has run the franchise into the ground. Just as ...
September 15, 2010
No reason to remain calm when what appears to be panic seems appropriate. The 49ers were the prohibitive favorite to win the NFC West as one of the "it" teams of ...
September 7, 2010
Nate Davis could still be the San Francisco 49ers potential quarterback of the future, but the organization is intent on winning now and opted to hand the No. 3 job ...
August 27, 2010
The discussion centering on Nate Davis and whether he can become a starting NFL quarterback has led to San Francisco 49ers fans trying to convince one another that Alex Smith ...
August 24, 2010
San Francisco 49ers fans are fascinated by quarterback Nate Davis and his physical tools. But, the growing love affair with the second-year passer won't extend to the regular season. Just ask ...