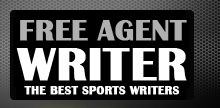 Yankee Addicts
Categories
Featured Sponsors
News published by
January 1, 2011
From a fantasy perspective, Week 17 is more about dodging grenades (no, not ugly chicks at clubs in Jersey), than it is about predicting who is going to be the ...
December 30, 2010
Week 17 historically brings forth a deluge of soap-opera type scenarios to ponder.  The wild-card race is a good time.  Pondering the "if/thens" can be mind-boggling.  Here is a quick ...
December 28, 2010
I have a policy and it goes like this—I will not participate in head to head season-long fantasy football leagues that play their Super Bowl (or any portion thereof) during ...
December 25, 2010
Writing up Tight End analysis is a bit like fishing on a pond with one fish in it.  Before Witten emerged via the exit of Wade Phillips (or Tony Romo, ...
December 24, 2010
There are a lot of late-breaking news-bombs being dropped on fantasy football's faithful and, with question marks surrounding some of the league's top fantasy players in 2010, owners need the ...
December 24, 2010
Week 16 is tricky for many reasons.  The fantasy bowl is upon us and we have so much on the line, but many of the players that got us to ...
December 22, 2010
It's Week 16, and if you are still consuming large quantities of fantasy analysis I either A) congratulate you for making it to your league's Super Bowl, oe B) wish ...
December 18, 2010
While the rest of the industry pumps their rankings out on Tuesday and Wednesday so as to leverage the best web-traffic days, FFArmory.com takes their own sweet time, pouring over ...
December 11, 2010
With games just one day away, FFArmory.com's Tenny Stegman rolls out his rankings for Week 14 with all of the news on injuries factored in.  QBs Michael Vick at ...
December 6, 2010
QB Dez Bryant, Cowboys Bryant broke his ankle and will miss the remainder of the season.  Bad news for Bryant owners makes good news for Miles Austin and Roy Williams owners as ...