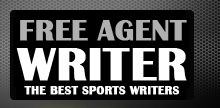 Yankee Addicts
Categories
Featured Sponsors
News published by
January 29, 2012
Outstanding quarterback matchups are par for the course at the Super Bowl, so on the face of it, there's no reason Tom Brady and Eli Manning should necessarily produce an ...
December 4, 2011
With the fantasy playoffs looming, few owners can afford to start a wide receiver who doesn't produce. Look for this trio to underperform compared to their usual totals on Sunday: ...
November 26, 2011
Getting behind the wrong QB is a great way to sink your fantasy team in any given week. This trio will make fantasy owners regret starting them on Sunday.   ...
November 26, 2011
Week 12 of the NFL schedule has already handed out losses to a pair of teams likely headed to the postseason, but Detroit and San Francisco won't be the last ...
November 20, 2011
After suffering a toe injury in last week's upset loss to the Seahawks, Ray Lewis hasn't been practicing and appeared likely to be out of action for this Sunday's meeting ...
November 19, 2011
Fantasy disaster Chris Johnson finally woke up last week, but which running backs will step up in Week 11 action? Here are three great candidates to put up monster numbers: ...
November 13, 2011
Even after eight games of battling into playoff contention, some of the NFL's winningest teams are struggling to get respect from fans. This trio will boost their postseason chances with ...
October 30, 2011
After a week filled with close, low-scoring finishes, some teams will be able to build on their momentum and pull out another win on Sunday. This trio, however, will come ...
October 29, 2011
Some struggling NFL teams have the talent to turn things around in any given week, as the Chiefs did after their awful start. Then, there are these clubs:   St. ...
April 26, 2011
With just days remaining before the 2011 NFL draft, every rumor is magnified and every hint at teams' intentions become the next big revelation. With the tide of mock drafts reaching ...