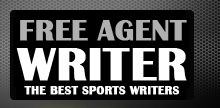 Yankee Addicts
Categories
Featured Sponsors
News published by
December 23, 2012
Ask any sports fan what their dream job would be and I guarantee you 99.9 percent will say NFL quarterback. It does not have to be a starting QB, either. ...
March 9, 2010
This will be the first of many mock drafts for years to come. I have been doing much research and have compiled a list of what I think will be ...
February 18, 2010
True inspiration is what the 2009 New Orleans Saints have been to the city of New Orleans. I was one of the many people who lost everything from Hurricane Katrina. I ...