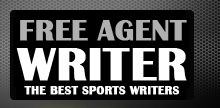 Yankee Addicts
Categories
Featured Sponsors
News published by
December 23, 2010
This week the 12-2 (5-2 away from home) Patriots travel to Buffalo to play the 4-10 (2-5 at home) Bills. The Bills haven't beaten the Patriots since 2003, and they will ...
December 2, 2010
The Premier game of the week comes on Monday Night Football as the 9-2 (5-0 away from home) New York Jets travel to the 9-2 (5-0 at home) New England Patriots ...
October 28, 2010
Once again, the Patriots will be in one of the games of the week in terms of profile, this time against the Vikings. This maybe a must win for the ...
August 1, 2010
Today marked Wes Welker's return to training with pads on after he passed a physical test and was cleared to practice with the rest of the team. Welker was allowed ...
July 27, 2010
Recently, there has been a lot of focus put on the rookies and second-year players in New England, with many saying the future success of the team relies on whether ...
July 19, 2010
This article is going to tell you who I think will be the five most valuable fantasy assets coming from the Patriots this year. This is the slide show for ...
July 11, 2010
This slideshow is about what I think are some of the positives and negatives for Patriots fans going into their training camp which begins on July 29. I will give ...
June 27, 2010
Welcome to the final edition of my projected depth chart. This edition will be focusing on New England's secondary, which includes cornerbacks and safeties. The Patriots have lots of players on ...
June 17, 2010
This is the fourth in a series of articles focused on me projecting what the man in the image, Bill Belichick, will do in terms of the Patriots depth chart ...
June 13, 2010
This is the third in a series of slide shows that will focus on my thoughts on New England's depth chart. This slide show will focus on the Patriots defensive line. ...