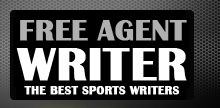 Yankee Addicts
Categories
Featured Sponsors
News published by
February 24, 2015
After proving to be one of the more dangerous pass-rushers in the league last season, Pernell McPhee is likely to attract a lot of attention in free agency. That means ...
February 22, 2015
If there was still any lingering doubt about the Oakland Raiders and San Diego Chargers' sincerity about pursuing a future in Los Angeles, the teams put an emphatic end to ...
February 22, 2015
The NFL combine is the perfect stage for prospects to put their athletic gifts on display, and plenty of draft hopefuls are taking full advantage in Indianapolis this weekend.  There are few ...
February 17, 2015
Linebacker Keith Rivers, who spent just one year with the Buffalo Bills, has been released.      The team announced the news Tuesday:  Rivers, who signed a two-year deal last offseason, played just 186 ...
February 17, 2015
On the heels of San Diego Mayor Kevin Faulconer's new stadium task force being announced, the San Diego Chargers are giving the city a warning.  Succeed, or else.  Mark Fabiani, who serves as the ...
February 17, 2015
Just a year after signing Thomas DeCoud to a two-year deal, the Carolina Panthers released the veteran safety Tuesday.  The team announced the move, via its official Twitter account:  Jason Fitzgerald of ...
February 10, 2015
The Pittsburgh Steelers are making it a priority to sign veteran quarterback Ben Roethlisberger to a contract extension this offseason.    Continue for updates. Steelers GM Confident on Getting New Deal DoneTuesday, Feb. ...
February 7, 2015
Defensive end Jason Pierre-Paul is likely to be one of the hottest targets in the NFL free agency market this summer, after a strong 2014 season sure to draw him ...
January 27, 2015
Super Bowl media day is equal parts press conference and circus—I mean, come on—but at the very least, it always produces plenty of memorable sound clips and moments.  This year's edition, ...
January 20, 2015
Less than an hour after Gary Kubiak completed his introductory press conference with the Denver Broncos, the Baltimore Ravens announced his replacement, Marc Trestman.       The team's Twitter feed made it official on ...