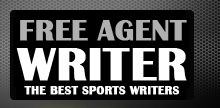 Yankee Addicts
Categories
Featured Sponsors
News published by
February 2, 2011
During Super Bowl week when the NFL's top executives should be promoting the game of football and avoiding controversy, commissioner Goodell is proving why he should be the last guy to ...
January 18, 2011
After being drafted No. 11 in the first round of the 2004 NFL draft, in only seven seasons with the Pittsburgh Steelers, Ben Roethlisberger is an amazing 9-2 in the ...
December 13, 2010
Rex Ryan better get on the ball and use all that talk to motivate his team before its too late. I predicted the Jets would lose four games starting with New ...
November 4, 2010
Nearing the halfway point of the 2010 season, things are starting to take shape. Despite a season where parity has been at an all time high, the cream is rising ...
October 1, 2010
Several articles have already been written concerning the three remaining undefeated teams and which have the best shot at remaining unbeaten: the Kansas City Chiefs, the Chicago Bears, and the ...
September 4, 2010
Many things were expected of Matt Leinart when he came out of USC and was taken as the tenth overall pick in the 2006 draft. Unfortunately for him things have ...
May 29, 2010
Although it is too early to tell just yet how much of a focus the Steelers will put on improving their running game, Rashard Mendenhall seemingly isn't fully confident that ...
January 9, 2010
Despite all the speculation surrounding the release of Bruce Arians from his duties as offensive coordinator for the Pittsburgh Steelers, it has not come to pass. He will finish out ...
January 9, 2010
Amongst all the controversy surrounding the third year offensive coordinator of the Pittsburgh Steelers, Mike Tomlin has made a move that has the majority of Steelers nation shaking their collective ...