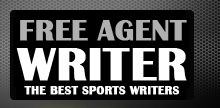 Yankee Addicts
Categories
Featured Sponsors
News published by
January 17, 2017
Anthony Lynn had his introductory press conference as the new head coach of the Los Angeles Chargers on Tuesday. In his opening remarks, however, he nearly had a humorous slip-up. "I ...
January 17, 2017
Pittsburgh Steelers wide receiver Antonio Brown will be punished for broadcasting head coach Mike Tomlin's postgame speech on Facebook Live following the team's 18-16 divisional-round win over the Kansas City Chiefs at Arrowhead Stadium on ...
January 15, 2017
New Buffalo Bills head coach Sean McDermott is in the process of putting together his coaching staff, with offensive coordinator remaining the highest-profile position yet to be filled. Continue for updates. Brad Childress ...
January 15, 2017
The NFL has presented Dallas Cowboys running back Ezekiel Elliott with follow-up questions regarding assault accusations his ex-girlfriend made in July, according to ESPN's Adam Schefter. Elliott is answering those inquiries, though resolution is expected to come ...
January 9, 2017
New York Giants quarterback Eli Manning spoke Monday about Odell Beckham Jr.'s disappointing performance against the Green Bay Packers in Sunday's 38-13 Wild Card Round loss.  "I don't have concerns," Manning said, ...
January 9, 2017
The Philadelphia Eagles fired wide receivers coach Greg Lewis on Monday, according to Charles Robinson of Yahoo Sports and Jeff McLane of the Philadelphia Inquirer.  McLane wasn't particularly surprised that the ...
January 9, 2017
If your team didn't make the playoffs or just lost in the wild-card round, you're probably consuming mock drafts with regularity at this point. Let me provide you with one ...
January 8, 2017
Kansas City Chiefs head coach Andy Reid is set to enter the final year of his contract next season. Continue for updates. Chiefs Want to Extend Reid Sunday, Jan. 8 The Chiefs will attempt ...
January 5, 2017
Washington fired defensive coordinator Joe Barry on Thursday, according to Ian Rapoport of NFL.com (h/t Marc Sessler of NFL.com).  Jason La Canfora of CBSSports.com reported that head coach Jay Gruden was dismissing the entire ...
January 4, 2017
Auburn edge-rusher Carl Lawson announced on Wednesday that he has declared for the 2017 NFL draft. Lawson, a junior, accumulated 30 tackles, 9.5 sacks and 14 tackles for loss during the ...