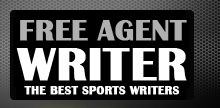 Yankee Addicts
Categories
Featured Sponsors
News published by
January 4, 2017
The Oakland Raiders announced Wednesday that Connor Cook would remain the starting quarterback for the team's Wild Card matchup against the Houston Texans, per Scott Bair of CSN California.  The decision presumably ...
January 4, 2017
Mock drafts are hard. They're fun to do, but they're hard, especially this time of year. There is still a lot about these prospects we don't know. There is still a ...
January 4, 2017
The Dallas Cowboys reportedly signed guard Jonathan Cooper on Wednesday, according to Clarence Hill Jr. of the Fort Worth Star-Telegram and Mike Fisher of CBS DFW.  Brandon George of the Dallas Morning ...
January 3, 2017
Ohio State junior cornerback Gareon Conley announced Tuesday via Instagram he will enter the 2017 NFL draft: His full post read [sic]: Mannnnn it's been a wonderful journey from recruiting to playing in ...
January 3, 2017
Oklahoma star running back Samaje Perine announced Tuesday he will enter the 2017 NFL draft via Instagram: Perine, a junior, is Oklahoma's all-time leading rusher with 4,122 career yards on the ground after ...
January 2, 2017
The NFL regular season is over, which can mean only one thing: bring on the mock drafts! OK, so I guess it means playoff football too. But for 20 teams, the ...
January 1, 2017
The San Francisco 49ers will reportedly fire both general manager Trent Baalke and head coach Chip Kelly this offseason, according to Adam Schefter of ESPN and Ian Rapoport of NFL.com. On Sunday, Fox ...
December 31, 2016
With Week 17 upon us, those leagues that save their fantasy championships for the last week of the NFL season are left to be decided. But the Week 17 championship ...
December 30, 2016
New England Patriots wide receiver Malcolm Mitchell doesn't figure to see the field in the team's regular-season finale against the Miami Dolphins because of a knee injury. According to Doug Kyed of ...
December 30, 2016
Houston Texans star defensive end Jadeveon Clowney is dealing with elbow and wrist injuries that will keep him out of the team's regular-season finale Sunday. Marc Berman of Fox 26 tweeted the ...