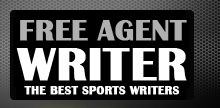 Yankee Addicts
Categories
Featured Sponsors
News published by
December 14, 2016
The Arizona Cardinals have released wide receiver Michael Floyd, according to Darren Urban of the team's official website. Urban reported Wednesday that a DUI charge Monday morning "spurred his release" while also noting Floyd's drops ...
December 14, 2016
With the fantasy playoffs now upon us, the difference between a win and a loss is often the difference between fringe players either getting the start for your team or ...
December 13, 2016
The NFL's playoff picture remains, in a word, messy. But that's a good thing for fans, as the final weeks of the season will present an enormous amount of drama ...
December 13, 2016
Oakland Raiders quarterback Derek Carr said he would "absolutely" love the chance to help Johnny Manziel and hopes the controversial quarterback someday returns to the league. "You know, I spent a ...
December 12, 2016
For the second straight game, an opposing cornerback has had harsh words for the Cleveland Browns' Terrelle Pryor. But this time around, the team's head coach, Hue Jackson, put some ...
December 12, 2016
Dallas Cowboys owner Jerry Jones confirmed that Dak Prescott would remain the starting quarterback and the team wouldn't turn to Tony Romo, even amidst some struggles from the rookie. "We've seen ...
December 12, 2016
Philadelphia Eagles running back Darren Sproles suffered a concussion in Week 14 against the Washington Redskins after being hit during a punt return. His official playing status for Week 15 ...
December 11, 2016
Dallas Cowboys wide receiver Lucky Whitehead won't travel to New York to face the Giants in a crucial NFC East showdown Sunday due to a violation of team rules, according ...
December 5, 2016
Tennessee Titans players Delanie Walker and Jason McCourty will be able to wear individualized cleats Sunday against the Denver Broncos after receiving permission from the NFL. "We have spoken to both ...
December 4, 2016
San Francisco 49ers quarterback Colin Kaepernick has an opt-out clause in his contract that will make him a free agent this offseason if he chooses to exercise it. Continue for update. Kaepernick Reportedly Will Opt Out ...