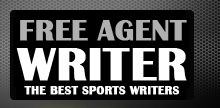 Yankee Addicts
Categories
Featured Sponsors
News published by
September 28, 2010
It's Steelers-Ravens week, meaning we can once more celebrate the fine art of smash-mouth, take-no-prisoners, last-man-standing football. Some people may like the offensive ballerina that has been the Patriots versus Colts, ...
April 13, 2010
In 2004, the Steelers had arguably the best receiving corps in football, highlighted by the ever dependable Hines Ward still in his prime and the matchup nightmare that was Plaxico ...
April 8, 2010
The uncertainty surrounding the Ben Roethlisberger situation is a clear and present challenge for the Steelers. While the Steelers are likely in no rush to move on without the superstar quarterback, they ...
April 7, 2010
After consulting my crystal ball, I've seen the future and know exactly how the Steelers' draft will turn out. And it will be a great one. With their first-round pick, they ...
April 2, 2010
I recently wrote an article cautioning that the Steelers' defense is getting old. A few people who commented indicated that this is always the case with the Steelers since they ...
March 31, 2010
In trying to determine who is likely to be on the Steelers draft board, I took a look at all of the prospects who could appeal to the Steelers and ...
March 30, 2010
I was somewhat surprised when looking at the Sporting News Draft Guide for 2010 to see every Steelers defensive position except for the two safety spots listed as need areas. Considering ...
March 26, 2010
March is one of my favorite times of year as a sports fan. While March Madness is a nice distraction, what I like even more is all of the buildup ...
March 24, 2010
There was recently an article claiming the author believed Ben Roethlisberger was the most overrated quarterback in football. Another recent article claimed that Peyton Manning was the most overrated quarterback ...
March 23, 2010
While it has been lost in light of the bigger story that need not be mentioned, the Steelers have quietly had an excellent off-season. It's been a "Back to the Future" ...