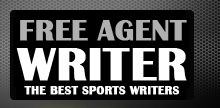 Yankee Addicts
Categories
Featured Sponsors
News published by
December 23, 2010
Norv Turner was walking around Fashion Valley when he caught a bright color of red out of the corner of his eye. It was him! The big man in red!Turner ...
December 13, 2010
Philip Rivers is one of the more talented quarterbacks in the NFL. I'm not here to dispute that. But that doesn't mean I'm not going to give him just as ...
December 8, 2010
I'll admit that I've never been a huge fan of Tim Tebow, and it really had nothing to do with him personally. I just didn't like the Florida Gators. But that's ...
November 17, 2010
Week 11 of the NFL is almost upon us and that means another week of my golden picks. Ok, maybe not so golden, but at least I have fun doing ...
November 17, 2010
This week, a new addition of the power rankings is out and I know you were waiting for it to come from me, right? No? Well, I don't blame ...
November 16, 2010
Donovan McNabb goes from being benched and told he doesn't know the playbook, to signing a five-year contract extension earlier today.When I first heard this news, I had to see ...
November 10, 2010
With the NFL over the halfway point of the season, the picture is starting to become a little more clear on who the top teams are, who is halfway to ...
November 10, 2010
While we're heading towards the end of the college football season and beginning to look at where our teams will end up in the bowl picture, there's also never a ...
November 8, 2010
Wade Phillips has finally worn out his welcome with the Dallas Cowboys. It was a slow news morning and remained that way until early this afternoon when news broke that ...
November 5, 2010
A few weeks before the draft, I read everything I could get my hands on about Fresno State running back Ryan Mathews. There were no shortages of teams that wanted ...