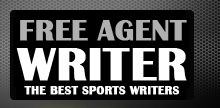 Yankee Addicts
Categories
Featured Sponsors
News published by
November 3, 2010
As the world around Randy Moss turns.What amazes me to no end is us NFL fans made a big deal of the Cincinnati Bengals and the drama that might be ...
November 3, 2010
Fantasy football is headed towards a stretch where you're either hoping for a win or you're out in front of the rest of the league and feeling good about them ...
November 1, 2010
Through NFL history, we've had some of the greatest teams in history either not make it to the big game or lose in the Super Bowl.Who are the teams, that ...
November 1, 2010
Week 9 of the NFL season is coming to a close and it's time to put together the power rankings, predicting where each team will be when Monday night's game ...
October 28, 2010
Just when you thought you had had enough of Brett Favre, he seems to put himself back in the news.If it's not messing with a sideline reporter, it's his starting ...
October 27, 2010
Week 8 of the NFL is upon us, and the predictions are already coming in hot and heavy—so why not join in on the fun, right?The Houston Texans will be ...
October 25, 2010
As if we haven't gotten tired of Brett Favre, his name continues to come up in the news. At this point, I'm convinced that this is exactly what Favre wants.People ...
October 25, 2010
This is always the part that I hate the most. No, not actually putting together the power rankings each week for the NFL, but doing so is the sign that ...
October 21, 2010
Not that this is any shock to me, but apparently even the other players in the NFL think Terrell Owens is one of the most overrated players in the game. ...
October 19, 2010
With the NFL trade deadline having now come and gone, we can officially look back at the players who moved and the ones who stayed put.There were some big names ...