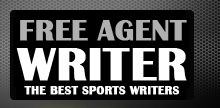 Yankee Addicts
Categories
Featured Sponsors
News published by
February 14, 2011
NFL power rankings are here and we're not just talking about next year, we're thinking long term.Dynasties aren't a common thing. It takes a lot of factors to make those ...
February 9, 2011
2011 NFL Draft is coming up and when each player comes off the board, you know that they're going to be compared to a player that is currently playing in ...
January 24, 2011
Yesterday was a chance for Jay Cutler to solidify himself as one of the game's top quarterbacks and yet, the NFC Championship may have killed his credibility in NFL circles.Cutler ...
January 20, 2011
Good morning, everyone! Tom Kinslow here to take you around the wide world of sports with today's top NFL news. We'll be talking about ...
January 17, 2011
Jets vs. Patriots was a stunning loss, mainly because of the result of the second matchup between the two teams where New England took the Jets to the woodshed on ...
January 16, 2011
Matt Hasselbeck was a big part of what made the Seattle upset over New Orleans possible.He threw the ball all over the field and did it with great success as ...
January 16, 2011
Pete Carroll left a bad situation at USC just in time and headed north to Seattle where he took the job coaching the Seahawks.A lot of people questioned the move ...
January 16, 2011
NFC Championship Game 2011 will be here before we know it and our matchup will be set once the Chicago and Seattle game is over with.If Seattle makes it to ...
January 16, 2011
The Seattle Seahawks play the Chicago Bears today, and when it's all said and done, we'll be one step closer to having a lot of questions answered about the playoff ...
January 13, 2011
NFL playoff predictions are here and we're breaking down this week's slate of games to let you know who will be heading to the conference championship games. We have four rematches ...