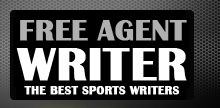 Yankee Addicts
Categories
Featured Sponsors
News published by
July 14, 2010
According to USA Today , authorities investigated Ben Roethlisberger in a case of public urination at the Muirfield Village Golf Club in Dublin, Ohio. Dublin police spokesman David Ball ...
April 21, 2010
ESPN's Adam Shefter reported at 11:35 this morning that the Steelers are actively talking to teams about trying to get a top 10 pick for Roethlisberger after the news of ...
April 18, 2010
Dear, Steelers fans, Steelers haters, NFC lovers, AFC lovers, young, old, male, and female, It's time to put the Ben Roethlisberger debate to rest. The allegations against Ben Roethlisberger are the biggest ...
April 12, 2010
In a move that has Steelers fans everywhere scratching their heads and yelling profanities while New York Jets fans rejoice, the Steelers traded away former first round pick and Super ...
April 10, 2010
According to sources, Ben Roethlisberger will not be charged in his case involving an incident in a bathroom at a bar in Milledgeville, Ga. ESPN reported earlier this evening that the ...