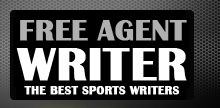 Yankee Addicts
Categories
Featured Sponsors
News published by
May 3, 2010
    In their short tenure together, the dynamic duo of Pete Carroll and John Schneider has had glowing success of deal after deal and draft selection after draft selection that Seattle has ...
April 5, 2010
  Don't be shocked if the Hawks and Eagles swap selections at No. 6 and No. 24 if Eric Berry is on the board at No. 6. 1. Hawks and Eagles have ...
March 27, 2010
Yes, that's our very own Matt Hasselbeck wearing No. 11 and under center for the Green Bay Packers. Maybe lightning will strike twice with hopefully this time, our new QB, Charlie ...
March 25, 2010
With the Hawks first 2 selections in round 1, I think the organization needs to go CORE. What I mean by CORE is back to foundational players in this pass ...
March 23, 2010
Now that's what I call a woooo lick or even a de-cleater…Knowshon Moreno meet defensive back extraordinaire, Eric Berry. Whoa, Whoa, Whoa …Did someone just use Eric Berry's name in the ...
March 20, 2010
OK. So Magician maybe a bit over the top. Agreed. However, with the lack of NFL experience—and I mean lack—the only football production we can rest any hope on is ...
March 18, 2010
The typical NFL and Hawk fan reaction has been that we were foolish and got robbed by the Chargers.  Let's think again without the foolish reactionary thought.   You can NOT assess ...