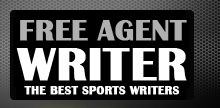 Yankee Addicts
Categories
Featured Sponsors
News published by
March 24, 2011
After trend towards offense, Jets aim for top defensive playerWhen Rex speaks, I usually listen.New York Jets coach Rex Ryan sounded off about a variety of things recently, including the ...
March 22, 2011
The San Francisco 49ers will go defense with their first pickLet me say this up front: Jim Harbaugh can't go wrong with either Nick Fairley or Patrick Peterson. Both are ...
March 22, 2011
The NFL Draft is almost here; something that definitely brings a huge sigh of relief. I enjoy all the speculation behind it, but it will be nice to finally be done ...
March 17, 2011
Some teams just can't seem to get it right.Others are pretty masterful when it comes to first round picks in the NFL Draft. Look through their lists of first round ...
March 14, 2011
I've got the Kevlar on and I'm ready for the shrapnel to fly.I don't think you can argue with this bunch, though. They're simply awful.When you look back over the ...
March 13, 2011
New York Giants wide receiver Steve Smith could have a new home.Smith remains unsigned, but the Giants placed a second-round tender on him recently, meaning teams would have to give ...
March 6, 2011
I had a feeling things would shift after the combine.Sifting through all the analysis and facts, I've realized three things: Marcell Dareus definitely helped his cause, Missouri's Blaine Gabbert will ...
February 27, 2011
So, the bosses want me to tap into my inner-GM again. This ought to be fun.My mission: take the most glaring weakness with each NFL team, and find someone to ...
February 20, 2011
There's a chance this could be it for Carson Palmer.The Bengals quarterback has requested a trade and threatened to retire if the move isn't made. Team owner Mike Brown said ...
February 17, 2011
So the bosses gave me the chance to tap into my inner-GM today.Scour through all the NFL trade rumors out there and it's incredible what you'll find. Right now, some ...