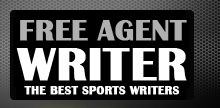 Yankee Addicts
Categories
Featured Sponsors
News published by
May 1, 2011
Eagles get undersized linebacker, versatile linemanGrades: B (Brian Rolle), C- (Jason Kelce)This late in the draft your picks can become crapshoots in a way.If the players pan out? Great. That's ...
April 14, 2011
Amukamara compared to NFL's elite The Prince is among the best, not just at his own position but among the best in this year's NFL draft class.Nebraska cornerback Prince Amukamara was ...
April 14, 2011
Cowboys predicted to stick with same name as before by most expertsWill it really be this simple?Will Jerry really stand pat and pick who we all have thought he would? ...
April 12, 2011
Eagles have plenty to choose from in this draftAlways love it when other writers call out coaches and just bring straight truth.Today that honor goes to Reuben Frank of CSNPhilly.com, ...
April 10, 2011
Cowboys need to figure out what kind of player they prefer once and for all I know it's a pipe dream, but indulge me for a minute would you. As Jason Garrett, ...
April 10, 2011
When it comes down to America's Team, you always know there will be opinions. The NFL Draft is getting closer, and for a while, it was pretty much assumed that Dallas ...
April 1, 2011
Plenty could happen with the CowboysAs we go into another week and get closer to the NFL Draft, here are five things to pay attention to with the Dallas Cowboys ...
March 31, 2011
The USC offensive tackle looked impressiveTyron Smith definitely didn't hurt himself during USC's Pro Day today.The USC offensive tackle, who could potentially be the first offensive lineman taken in the ...
March 30, 2011
Will it be a quarterback? Or Julio Jones? What about a pass rusher? Of all the teams in the NFC East, the Washington Redskins may be the most interesting team to watch in ...
March 30, 2011
If ever there was a time for Dallas to have a good draft, it's now. The Cowboys used to be the gold standard when it came to the NFL draft, but ...