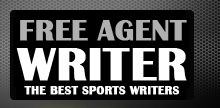 Yankee Addicts
Categories
Featured Sponsors
News published by
May 1, 2016
The 2016 NFL draft is now completely in the rearview mirror, and the Kansas City Chiefs added nine new players to the roster. Now, it's time to project how these ...
April 30, 2016
The Kansas City Chiefs have taken an interesting approach to the 2016 NFL draft by trading back in both the first and second rounds to acquire extra picks. As a ...
April 27, 2016
The Kansas City Chiefs hold seven picks for the 2016 NFL draft, which kicks off Thursday night. Within those seven picks, they will be looking for the pieces that could help ...
April 25, 2016
The 2016 NFL draft is less than one week away, and there are several different ways the Kansas City Chiefs could go with the No. 28 overall pick. By now, you've ...
December 5, 2015
Brock Osweiler has won his first two starts as quarterback of the Denver Broncos. Up next is a meeting with the San Diego Chargers. In those two starts, Osweiler has completed ...
November 30, 2015
As the snow fell on a frigid night in Denver, fans were treated to one of the best games of the entire 2015 NFL season on Sunday Night Football. The Denver ...
November 28, 2015
The teams that have represented the AFC in the last two Super Bowls will meet on Sunday Night Football with plenty on the line. The Denver Broncos will be looking to ...
November 14, 2015
The Denver Broncos (7-1) will be looking to rebound from their first loss of the season when they host the Kansas City Chiefs (3-5) on Sunday afternoon. Fortunately for Denver, ...
November 2, 2015
In a battle of undefeated teams, it was the Denver Broncos who dominated the Green Bay Packers on a national stage on Sunday night. Denver played a nearly perfect game on ...
October 31, 2015
The NFL has staged a battle of 6-0 teams just four times in league history. In Week 8, on Sunday Night Football, the Denver Broncos and Green Bay Packers will ...