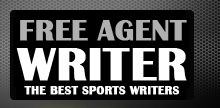 Yankee Addicts
Categories
Featured Sponsors
News published by
October 17, 2015
The Denver Broncos will look to stay undefeated in Week 6 as the team makes its first trip to Cleveland since 2008. Awaiting them at FirstEnergy Stadium will be the ...
October 4, 2015
Though it hasn't been pretty, the Denver Broncos have managed to start the season 3-0. Now is when the team could really hit its stride and start a run of ...
September 28, 2015
David Bruton has made a nice career for himself as one of the best special teams players in the NFL. But on Sunday night, he made the biggest play of ...
September 26, 2015
For the second week in a row, the Denver Broncos will be on center stage in a prime-time slot, this time taking on the Detroit Lions on Sunday Night Football. The ...
September 18, 2015
If you didn't catch the game of Thursday Night Football between the Denver Broncos (2-0) and the Kansas City Chiefs (1-1), you missed a wild one. It would be hard to ...
September 12, 2015
Two of the last three AFC champions will open the season against one another when the Baltimore Ravens visit the Denver Broncos this Sunday. Gary Kubiak will be making his regular-season ...
September 4, 2015
The Denver Broncos closed out the 2015 preseason with a 22-20 loss to the Arizona Cardinals Thursday night. The team will now use the next day or so to determine which ...
August 23, 2015
It may not have been pretty, but the Denver Broncos were able to rally late to earn a preseason road victory over the Houston Texans, winning 14-10 on Saturday night. Peyton ...
August 15, 2015
The Denver Broncos got a strong performance from Brock Osweiler and kicked five field goals on Friday night before holding on to defeat the Seattle Seahawks 22-20 for a victory ...
July 15, 2015
Wade Phillips will be making his eighth stop as a defensive coordinator when he takes the reigns of the defense of the Denver Broncos in 2015. He was also a ...