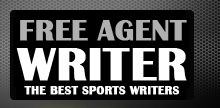 Yankee Addicts
Categories
Featured Sponsors
News published by
September 2, 2010
New York Jets coach Rex Ryan looked into his crystal ball on Wednesday and saw Baltimore Ravens safety Ed Reed suited up and playing against the Jets on September 13.  ...
September 1, 2010
Don't expect to see many starters on Thursday night as the Ravens take on the Rams. Coach John Harbaugh and his staff will most likely use this final preseason game ...
August 31, 2010
During the course of the game against the New York Giants, the Ravens receiving corps took two substantial hits: Mark Clayton was felled with a concussion after a hard hit ...
August 29, 2010
This was billed as the preseason game to see as the starters were expected to play, at the very least, the entire first half. With the 24-10 victory, the Ravens ...
August 28, 2010
On Friday, San Diego Chargers wide receiver Vincent Jackson stated that he was prepared to sit out the entire season if he could not obtain a contract to his liking. In ...
August 27, 2010
There are many questions still to be answered in regard to the Baltimore Ravens this offseason. What follows are some points of concern as the team gets ready to ...
August 24, 2010
The Baltimore Ravens removed Lardarius Webb from the physically unable to perform list on Monday. The team is hoping that the cornerback will be ready to play against the New ...
August 21, 2010
Fabian Washington: The cornerback will make his 2010 debut in tonight's game. Ravens' coach John Harbaugh has said that Washington will be on the field for at least one quarter ...
August 18, 2010
The Baltimore Ravens took Sergio Kindle in the second round of this year's NFL draft. The Texas Longhorns linebacker had been projected by some as a first round pick, but ...
August 15, 2010
The drama and questions concerning Jared Gaither's injury have finally come to an end.  Gaither visited a doctor in California this week.  He has been diagnosed with a very small ...