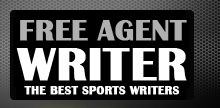 Yankee Addicts
Categories
Featured Sponsors
News published by
January 9, 2011
When Baltimore Ravens safety Ed Reed takes the field on Sunday he may have more than the Kansas City Chiefs on his mind. Reed's brother, Brian, is said to have jumped ...
November 29, 2010
I am sure almost everyone has heard the praise to God or Jesus after some random athlete has won a game or made an amazing catch. Let's face it...athletes thank God ...
October 3, 2010
Baltimore Ravens right tackle Jared Gaither's return to the practice field lasted all of one day.  On Wednesday Gaither suited up to practice with the team for the first time ...
September 20, 2010
Ray Lewis is clearly blaming the Baltimore Ravens' 15-10 loss to the Cincinnati Bengals on the men in stripes. Late in the third quarter it appeared that Lewis had sacked Cincinnati ...
September 18, 2010
Less than two weeks ago, Baltimore Ravens rookie linebacker Sergio Kindle was optimistic about the possibility of playing during the 2010 NFL season. Kindle's hopes for a 2010 return took a ...
September 16, 2010
In what may be one of the more bizarre signings of the early NFL season, Prince Miller has rejoined the Baltimore Ravens. Miller, an undrafted rookie who played college football ...
September 9, 2010
Sergio Kindle, the Baltimore Ravens' top draft pick in the 2010 NFL entry draft, is optimistic that he will play for the team during the 2010 season. Kindle was selected by ...
September 6, 2010
Undrafted Rookie Prince Miller had this to say on Saturday after he was informed that he had made the Ravens 53 man roster, "I had a meeting and I thought ...
September 4, 2010
Earlier today, the Baltimore Ravens released their official 53-man roster. Two of the bigger names not included on that list are quarterback Troy Smith and kicker Shayne Graham. There had been ...
September 4, 2010
Earlier this week, New York Jets coach Rex Ryan stated that Ed Reed would play in the Ravens' season opener against the Jets. Coach Ryan's crystal ball must be cracked or ...