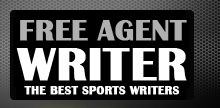 Yankee Addicts
Categories
Featured Sponsors
News published by
February 4, 2015
New England Patriots rookie Malcolm Butler made the play of his career in Super Bowl XLIX when he intercepted Russell Wilson at the 1-yard line with the Seattle Seahawks driving ...
January 24, 2015
The North beats the South in the 2015 Senior Bowl behind 73 rushing yards and 40 receiving yards from Nebraska's Ameer Abdullah, who was named MVP!Read more NFL news on ...
January 4, 2015
When the Baltimore Ravens and Pittsburgh Steelers play each other, it's always a physical affair, and their Wild Card Game matchup Saturday night was no different.After a chippy first half, ...
January 4, 2015
The Carolina Panthers dominated the Arizona Cardinals, 27-16, in the first NFL Wild Card Game of this year's postseason, holding the Cards to just 78 yards of total offense.After the ...
January 3, 2015
The Carolina Panthers beat the Arizona Cardinals in the NFC Wild Card Game 27-16! The Cardinals amassed just 77 yards of total offense, the fewest in NFL playoff history. Cam Newton threw ...
December 20, 2014
Keep it locked right here as we bring you live coverage of the San Diego Chargers vs. San Francisco 49ers!Read more NFL news on BleacherReport.com
December 20, 2014
In a game that was close to the end, Washington upset Philadelphia, moving to 4-11. The Eagles' playoff hopes took a huge hit, as a win by the Dallas Cowboys ...
September 2, 2014
The Houston Texans locked up defensive end J.J. Watt with a six-year, $100 million contract Monday, making him the highest-paid defensive player in the NFL. And Watt took no time at all to ...
August 24, 2014
Atlanta Falcons wide receiver Julio Jones looks to be picking up right where he left off after fracturing his foot last October.In a preseason game against the Tennessee Titans on ...
August 23, 2014
The Tampa Bay Buccaneers ran all over the Buffalo Bills in the first half on their way to a 24-0 lead, and this impressive touchdown from rookie wide receiver Mike ...