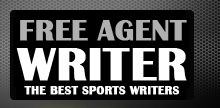 Yankee Addicts
Categories
Featured Sponsors
News published by
August 17, 2014
Minnesota Vikings kicker Blair Walsh looked like he was plenty warm after nailing a 70-yard field goal before the Vikings played the Arizona Cardinals on Saturday.Yes, Walsh was kicking from ...
August 17, 2014
2014's No. 1 draft pick is living up to his billing. We saw him explode into the backfield for a loss in his first preseason game, and he looked even more ...
August 13, 2014
The Dallas Cowboys and Oakland Raiders' joint training-camp session turned ugly when not one, but two fights broke out during practice. The Dallas defense and Oakland offense got into it when ...
August 5, 2014
The ALS Ice Bucket Challenge is a viral event sweeping social media that actually has a good purpose: raising awareness and money for research of the devastating disease ALS with a fun ...
July 19, 2014
For just $85 per person, you and at least seven friends can surround yourself with the NFL experience while you draft your fantasy team in the Kansas City Chiefs' Arrowhead ...
July 11, 2014
You might want to try that one more time, NFL. Earlier, the NFL posted a confusing tweet (that has since been deleted) featuring the faces of Bill Belichick and Rex Ryan ...
May 3, 2014
With Golden State Warriors coach Mark Jackson's future with the team in question, fans have taken sides on whether they want Jackson to stay or not. One fan's tweet got the ...
May 3, 2014
Following the news that former Texas A&M quarterback Johnny Manziel would sign with Nike, we learned that he would be licensing his nickname "Johnny Football."Thanks to Manziel's agent, Erik Burkhardt, ...
April 2, 2014
The Washington Redskins are in talks to sign free-agent wide receiver DeSean Jackson and it looks like the team has the support of quarterback Robert Griffin III, judging from the ...
March 25, 2014
After being his usual blunt self during many interview questions at the NFL owners meetings, New England Patriots coach Bill Belichick opened up a bit regarding proposed rule changes when ...