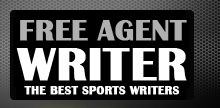 Yankee Addicts
Categories
Featured Sponsors
News published by
January 10, 2011
The Philadelphia Eagles (10-6) were to host the Green Bay Packers (10-6) in the Wild Card round of the NFC playoffs. The Eagles were able to win out the NFC ...
January 6, 2011
LeSean McCoy has been able to do something I never thought would happen in Philadelphia. Something that I don't think that anyone expected or that any expert had predicted. McCoy is ...
December 31, 2010
Last week was disappointing. The Philadelphia Eagles took a loss to the deflated and eliminated Minnesota Vikings, at home. It's a relief that the Eagles are already locked into the ...
December 29, 2010
The Vikings simply wiped the Eagles this game. The Vikings had more drive to win the game. The Eagles did not. The Vikings offense actually moved the ball. The Eagles did not. The ...
December 29, 2010
The Eagles are now out of timeouts. The Vikings are continuing to drive down the field, and pick up first downs as the clock continues to drain. The only thing ...
December 29, 2010
It looks like the Vikings may have just sealed the fate of the Eagles, as they now have a 10 point lead late in the fourth quarter. An excellent drive led ...
December 25, 2010
It appears that everyone gets one more Christmas gift this season, a Minnesota Vikings vs Philadelphia Eagles, Sunday Night Football game! We all know that this is one of the ...
December 20, 2010
The Philadelphia Eagles headed into New York and knocked off the Giants in one of the greatest comebacks in all of NFL history, posting a massive 28 points in the ...
December 17, 2010
The Eagles already were able to down the New York Giants at home once this season, and now they head into New Meadowlands to play the Giants on the road. ...
December 16, 2010
Once again, Stewart Bradley was taken off of the field in the Eagles versus Cowboys game with another injury. This time around it is a dislocated elbow, and it immediately ...