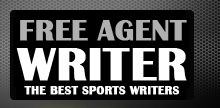 Yankee Addicts
Categories
Featured Sponsors
News published by
December 15, 2010
Every NFL team has a franchise player, or someone who was relatively unknown going into the season, but has been able to break out and become an NFL star. Whether ...
December 10, 2010
The Philadelphia Eagles head down to Dallas to play NFC East rival, the Cowboys in a crucial week 14 throw down.This Sunday Night Football match up is going to be ...
November 29, 2010
The Philadelphia Eagles winning streak has come to an abrupt end against the Chicago Bears, in a huge loss to Chicago. The Bears simply outmatched the Eagles and dominated the ...
November 26, 2010
This is a great season to be an Eagles fan. Frankly, I'm fine with all the jumpers latching on the Philadelphia bandwagon. I have seen a number of Steelers fans ...
November 22, 2010
Akers drills another and that seals the game. Eagles have a two possession lead with :22 seconds remaining in the 4th quarter. McCoy sealed the game with his 50 yard TD ...
November 22, 2010
Talk about a back and forth game, and it continues to be in every single direction. Who would have guessed that Manning would have fumbled after running for a first ...
November 22, 2010
The Eagles lined up in the shotgun following an offside penalty, and Vick gunned it incomplete to Maclin. The Eagles were put into a 4th an 1 situation. Reid elected ...
November 22, 2010
Michael Vick, is not playing like the Michael Vick that Philadelphia has come to know and love over the last few weeks. The Eagles offense has hit a brick wall ...
November 16, 2010
Eagles Featured Columnist, Troy Ballard here live blogging the Monday Night Football matchup between the Eagles and Redskins. Get ready for a great Monday night throw down! Feel free to ...
November 11, 2010
It's that time again for the Philadelphia Eagles to throw down with the Washington Redskins and Donovan McNabb. This Week 10 matchup is going to be played in Washington, which ...