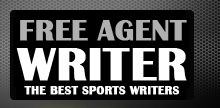 Yankee Addicts
Categories
Featured Sponsors
News published by
July 4, 2016
Two years ago, the NFL extending the regular season was a question of when, not if—and the answer to the question was "soon." The league was more than willing to ...
June 30, 2016
Buffalo isn't an NFL city anymore. Oh, sure, it has the Buffalo Bills: a team with a classic-yet-iconic brand identity, a long, rich history full of great teams, legendary wins and ...
June 18, 2016
In a salary-capped league like the NFL, the usual pressure on teams to maximize dollars is amplified many times over. A big contract given to a player who doesn't earn it ...
June 14, 2016
There's a giant, gaping hole in the middle of the football world. NFL teams are desperate for young quarterbacks who break down defenses from under center, offensive linemen who drive-block from ...
June 9, 2016
There used to be no higher compliment to a player than calling him the "prototype" for his position—but in today's NFL, they don't mass-produce 'em like they used to. Back in ...
May 17, 2016
NFL teams are paying kings' ransoms for young quarterbacks, and why not? In today's NFL, a good young signal-caller can secure the future of a team—and a general manager—for a decade. The ...
May 13, 2016
Eli Manning has been a little brother, a Super Bowl MVP, a punchline, a Hall of Famer and an afterthought. Ten years into his roller-coaster career, I wrote that Manning ...
April 30, 2016
Cardale Jones has a big frame, a big arm, a big brain, a big mouth and a big, fat College Football Playoff National Championship ring. That combination of traits alone ...
April 29, 2016
Paxton Lynch is the perfect quarterback prospect to lead the Denver Broncos back to the Super Bowl someday. But can "someday" be February 5, 2017? There's no doubting Lynch's potential. Bleacher ...
April 14, 2016
What do Von Miller, J.J. Watt, Justin Houston and Khalil Mack have in common? You can't protect your quarterback from them with an elite left tackle. Not just because they're four ...