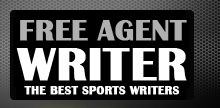 Yankee Addicts
Categories
Featured Sponsors
News published by
April 9, 2016
They say a lie can run around the world before the truth can put on its pants. Wendall Williams isn't quite that fast, but he just might be the truth. The ...
March 12, 2016
The Pittsburgh Steelers can be one of the best teams in the AFC with or without wide receiver Martavis Bryant, but without him, there's far more pressure on every one ...
March 11, 2016
Thursday marked the end of an era in the NFL. Well, it was the end of many small eras, and the beginning of an equal number of others. Yes, more big ...
February 28, 2016
"What's the number?" That's the question NFL movers and shakers will be asking each other at the beginning of the league's so-called "legal tampering window" on March 7—and, in reality, are ...
February 27, 2016
What's up, Doctson? Your draft stock. Josh Doctson, wide receiver draft prospect out of TCU, woke up anyone who'd been sleeping on him with a huge NFL Scouting Combine performance. On a ...
February 26, 2016
With a tremendous all-around performance at the NFL Scouting Combine, Derrick Henry proved he's the kind of old-school thoroughbred running back that's become an endangered species in the NFL. After measuring in ...
February 23, 2016
NFL coaches, scouts, executives, owners, hopefuls and media across the country are flying into Indianapolis for one of the league's most overblown spectacles: the national scouting combine. While the event continues ...
February 18, 2016
With a perfectly in-character video posted to Jared Allen's official Twitter account, one of the NFL's most prolific sack artists of all time has announced his retirement. Allen, whose brief stint ...
February 4, 2016
The Super Bowl is the biggest event in American sports culture. It might even be the biggest event in American culture, period. After 49 installments of The Big Game, it's become ...
February 2, 2016
It's Super Bowl Opening Night! On the 50th anniversary of American sports' biggest event, what used to be a pack of dull writer types in a hotel ballroom will now ...