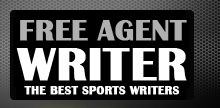 Yankee Addicts
Categories
Featured Sponsors
News published by
October 1, 2010
The 0-3 Detroit Lions go into this weekend looking like their typical hapless self's but this weekend could be different. They travel to the frozen tundra to face the Green Bay ...
September 24, 2010
I will be upfront with everyone reading this, I am not a Brett Favre fan. He used to be someone that was off my radar but now he is a ...
September 17, 2010
Michael Vick is going to blind us with his speed and his huge playmaking skills and make us think he is back. Well, guess what—he isn't the man for the ...
September 2, 2010
Well we know one thing and that is Matt Leniart won't be playing quarterback for the Arizona Cardinals and maybe won't be playing for anyone this year.If you ask me ...
September 2, 2010
Being in the Pittsburgh area, I have heard every angle of the Roethlisberger debate and Pittsburgh Steelers are still very divided on it. You have the fans that think he should ...
August 27, 2010
Just getting to the NFL as a quarterback is hard enough. You can have a great college career, just ask Matt Leinart what a great college career does for you. ...
April 28, 2010
There are 255 players taken over the three days in the NFL draft. There are a lot of players left out of the draft that are very good. Some of ...
March 10, 2010
Thomas Jones has signed with the Kansas City Chiefs and will form a two-headed beast with Jamaal Charles. This is the perfect landing spot for Jones. He is getting up there ...
March 9, 2010
Derek Anderson has recently been cut by the Cleveland Browns. I don't know if there will be much interest in him, but there should be. He played on an awful Browns ...
February 23, 2010
These are the players who play for small schools in the NCAA. I am not talking about small time Division One Schools either. I am talking about the Division I-AA ...