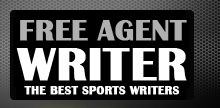 Yankee Addicts
Categories
Featured Sponsors
News published by
August 9, 2010
Let's talk about some football realities first. The Texans have defeated the cream of the AFC South, the Indianapolis Colts, once.  In eight (freaking!) years.  The Colts have been one of ...
August 8, 2010
The Houston Texans have relied on a young core of players in recent years to make an effort towards qualifying for the playoffs. Stars such as Andre Johnson, Matt Schaub, Owen ...
July 28, 2010
Deservedly so, the New Orleans Saints, led by quarterback Drew Brees, have basked in the glory of their recent Super Bowl triumph. What are their chances of repeating this season? Which ...
June 29, 2010
Each offseason, a litany of moves are made and even more are rumored. Often, teams that are close to reaching their potential gamble on adding one more player to ...
June 25, 2010
Let's get this straight first. Andre Johnson is not only the best wide receiver in the NFL, he's the most important (dare I say, valuable?) player in the NFL. Andre ...
June 22, 2010
Today is officially the first day of summer.  For those of you away from Houston, you may be surprised to know it's been at or near 100 degrees in Houston for ...
June 13, 2010
With the World Cup in full swing, plenty of Texan fans have been tuning in to watch. It's highly debatable which athletes from other sports could be soccer stars for ...
April 26, 2010
Coming into the 2010 NFL Draft, the Houston Texans were hoping to fill holes in the secondary and in the backfield.  An additional need was adding a defensive tackle along with ...
April 7, 2010
Earlier in the week, we examined the Houston Texans' offense and where it stood before the 2010 NFL Draft.  Let's now take a look at the defense.  We'll address the ...
April 4, 2010
One of my favorite sporting events (not just in the NFL universe) is the annual NFL draft.  Every season, hope springs eternal for most teams.  Not the St. Louis Rams, ...