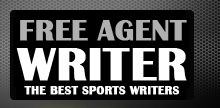 Yankee Addicts
Categories
Featured Sponsors
News published by
April 4, 2010
A little more than two weeks remain before the NFL Draft.  Most teams have obvious strengths and weaknesses and the Houston Texans are obviously no exception. With that being said, let's take ...
March 17, 2010
Child, please. We all know that Chad Ochocinco is one of the most prolific Tweeters in the NFL. But there are some teams who are likely to dominate ...
March 11, 2010
I'll start out agreeing with Jim McCurdy.  This mock draft is a boat load of fun.  And I'm glad to be part of the mock representing the Houston Texans Nation. If ...
March 9, 2010
Free agency is sometimes about landing a big fish. Think Albert Haynesworth or way back to Reggie White. More often, and especially for good teams, free agency is about adding ...