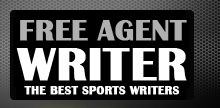 Yankee Addicts
Categories
Featured Sponsors
News published by
May 6, 2014
Entering the 2014 NFL draft, the Cleveland Browns are in a period of transition. They have a new general manager and head coach and are trying to make the jump ...
July 6, 2013
In 2012, the NFL saw some of the most dominant defensive performances ever. Odds are, 2013 won't be quite the same. Some of those same dominant players remain Defensive Player ...
May 25, 2013
The NFL has many high-profile players, and everyone in the league is obviously a terrific athlete compared to the rest of us. But some players stand out as especially dominant.Just ...
May 18, 2013
Every now and then, a contender will seemingly grow content with its status as a premier team in the NFL. This team will stop making the moves that made it ...
February 23, 2013
Every February, NFL draft analysts rant and rave about the NFL Scouting Combine. At the center of the combine is, of course, the 40-yard dash.Along with the people freaking out ...
February 10, 2013
In the NFL draft, each team is looking for key parts of its future roster. The teams are looking for the players who will form the base of a winning ...
June 23, 2012
If, in 2009, NFL general managers knew what they know, how would the 2009 NFL draft have gone?One thing is for certain: It would be quite different. The No. 2 overall ...
May 16, 2012
In the NFL, position competitions don't simply mean who is starting or who is getting more playing time.They often mean who has a job.Many times, the losing player in a ...
April 8, 2012
Prior to the 2011 NCAA season, Andrew Luck was the consensus best player in the draft. Luck didn't win the Heisman Trophy, though. Robert Griffin did.And as of late, Griffin ...
April 7, 2012
Lately, there has been a ton of talk about the Cleveland Browns selecting Texas A&M quarterback Ryan Tannehill with the No. 4 pick of the draft.The logic for the pick ...