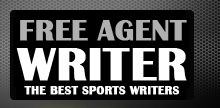 Yankee Addicts
Categories
Featured Sponsors
News published by
July 23, 2011
It's almost that time of the year again, and yes, I'm talking about the NFL season. With the lockout nearly over, it is time to start thinking about the 2011 ...
January 13, 2011
The common theme of the Divisional playoffs this weekend is revenge. Every Divisional playoff game features rematches from earlier this season, but will the results be different this time around? Here are some ...
November 24, 2010
At the beginning of the season, the games played on Thanksgiving looked like they would be great games and have meaning to them. How drastically that has changed. This year, the ...
September 21, 2010
Remind me again why the Eagles traded Donovan McNabb? In a sudden turn of events, Andy Reid has shocked the NFL world by naming Michael Vick the starter over Kevin ...
September 18, 2010
Week one of the 2010 NFL season is in the books and it was an interesting week. Already there is a quarterback controversy in Philly and the debate will get ...
September 14, 2010
It was a crazy first week in the NFL, with games going down to the wire, and some controversial calls as well. Here are my power rankings for week after ...
September 8, 2010
It's been quite an off-season in the NFL, but finally it's time for a new season. Forget about last season; it's in the past. Forget about the preseason; it doesn't ...
September 5, 2010
The NFL season is right around the corner. Is there anything better?Can the Saints win back-to-back titles? It won't be easy in an NFC that features the Vikings, Packers, and ...
August 9, 2010
Every year in the NFL, coaches are fired. Whether it's midway through the season, or the day the regular season ends.  Here are five coaches who will be on thin ice ...
August 8, 2010
The AFC East is one of the most intriguing divisions in the NFL, with it being potentially a three team race. I have been predicting each division in the league, and ...