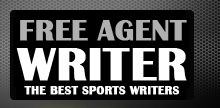 Yankee Addicts
Categories
Featured Sponsors
News published by
July 27, 2010
Known as the worst division in the NFL, the NFC West, now that Kurt Warner has retired, is wide open to win. Begin Slideshow
July 24, 2010
The super bowl champion New Orleans Saints headline the NFC South in a division that also includes the Falcons, Panthers, and Buccaneers. Begin Slideshow
July 21, 2010
In the talented NFC North, the reigning division champions are the Minnesota Vikings. Assuming Brett Favre comes back one more year, the Vikings are a threat to take the division ...
July 17, 2010
Known as the most competitive division in the NFL, the NFC East got even more interesting this year with Donovan McNabb going from the Eagles to the Redskins. Begin Slideshow
June 30, 2010
To win in the NFL, you must have a quarterback who will manage the game and not make many mistakes. The NFL is a quarterback driven league, and it is ...
June 13, 2010
Every year during the NFL season there is at least one team that always that surprises people, exceeding expectations and sneaking into the playoffs. In '08 it was Atlanta and Miami, ...