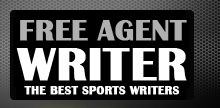 Yankee Addicts
Categories
Featured Sponsors
News published by
December 24, 2010
Andy Reid has piled up some incredible stats during his 12-year career as the Philadelphia Eagles' head coach. His 118 regular-season wins is one number that comes to mind. To put ...
December 22, 2010
Minnesota Vikings owner Zygi Wilf wants a new, publicly-funded stadium and by all accounts he wouldn't mind staying in Minneapolis. No one can really blame the owner for seeking a new ...
December 2, 2010
Things I would rather do instead of getting my brains bashed in include—watching the Cleveland Browns battle it out against the Carolina Panthers, being reamed out by Andy Reid in ...
November 5, 2010
Remember that time in college when your best friend was convinced he was going to hook up with the hottest girl in your dorm?You knew he had no shot and when ...
November 1, 2010
Thirty years ago the Philadelphia Eagles lost to the Oakland Raiders 27-10 in Super Bowl XV. Following the franchise's first trip to the game's biggest stage, the Eagles went 2-7 in ...
October 10, 2010
The NFL has long been a league filled with coaches who constantly think of ways to outsmart the opposition. Sometimes these unique approaches are incredibly successful. Buddy Ryan developed the 4-6 defense, ...
October 1, 2010
It'is unfair to say every Philadelphia fan hated Donovan McNabb while he was an Eagle. And it is equally out of line to say the same about Eagles fans since his ...
September 15, 2010
Is the NFL serious right now?I don't know if I can stomach a full-season of performances from Alex Smith, Matt Moore, Mark Sanchez, Jake Delhomme, Derek Anderson, Kevin Kolb, and pretty ...
September 14, 2010
A majority of Philadelphia Eagles fans wanted to kick Donovan McNabb to the curb. We got their our when Andy Reid traded the former franchise quarterback to the Washington Redskins for the 37th ...
September 11, 2010
It's probably safe to say that half the fans in attendance at Sunday's home and season opener against the Green Bay Packers either weren't born or were too young to ...