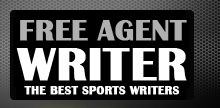 Yankee Addicts
Categories
Featured Sponsors
News published by
September 3, 2010
Preseason NFL predictions are about as useful as owning a pair of shoulderpads with spikes or dating a woman who could play middle linebacker for about half the league. Unless ...
August 31, 2010
Donovan McNabb took a ton of heat following the Philadelphia Eagles' regular season finale and opening-round playoff losses to the Dallas Cowboys. The offensive line was brutal, but McNabb was the ...
August 25, 2010
All too often Donovan McNabb's season ended painfully in the NFC Championship and all too often there was debate about how great he was.Now that he is gone a new ...
August 17, 2010
The NFL preseason does weird things to your brain. So far it has caused Al Davis to compare Jason Campbell to two-time Super Bowl champion Jim Plunkett, the media to believe ...
August 14, 2010
Perched up in Club Level 18 at beautiful Lincoln Financial Field, one could tell the fans were in love with Kevin Kolb. He really could do no wrong in their eyes ...
August 12, 2010
Do you ever notice how members of the national media drool over certain players and blindly praise them?It's sickening, right?You almost feel like you're listening to a dad go on ...
August 2, 2010
The best part about training camp is that most fans genuinely believe the upcoming season is going to be successful. The Oakland Raider die-hards will tell you their team can compete ...
July 21, 2010
Why do people always feel the need to figure out who is better: Tom Brady or Peyton Manning? Does it really matter who was better over the last decade or, is ...
July 15, 2010
Super Bowl XLIV may have been the greatest celebration of quarterback play in the history of the NFL. Drew Brees and Peyton Manning were asked to sling the pigskin around 84 ...
July 13, 2010
Bleacher Report offers fans the opportunity to voice their opinions and say what is truly on their minds. Unfortunately there are times when people throw opinions around and try to pawn ...