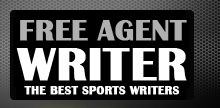 Yankee Addicts
Categories
Featured Sponsors
News published by
September 25, 2010
Oh me oh my. Two slightly average weeks at best. While Week 2 was better, it was most definitely not what I was hoping for. I made the biggest mistake you ...
July 28, 2010
Every year, the NFL always decides to throw a few curve balls at us. So, I decided to throw a few at you now, so be prepared. Please note, these ...
July 22, 2010
Yes, I know this is the Detroit Lions page. Yes, I know you are probably sick of Tim Tebow. Yes, I know you will be tuning in the second week of preseason ...
July 2, 2010
Around noon today, the Detroit Lions announced that they are bringing back two-time Pro Bowl cornerback Dre Bly.  Bly, 33, signed a two year deal to help boost a young, unknown ...
June 17, 2010
After a good work out, free-agent safety Ken Hamlin has signed a one year contract with the Baltimore Ravens. The terms of the deal have not yet been announced at the moment. Hamlin, ...
June 16, 2010
Call him team cancer, call him selfish, call him a cry baby and an overall jerk. But one thing you can't take away from him is his production. Haynesworth, with out ...
June 16, 2010
When my fantasy football draft come around each year, the hardest decision isn't what running backs I want on my team. While, having two quality running backs is still the ...
May 14, 2010
By now, everyone knows that the San Diego Chargers outside linebacker Shawne Merriman is on the trading block. Merriman knows it too. In a recent tweet, he asked, "How long is ...
May 6, 2010
Mark this one down as a bust.  As rumored, the Oakland Raiders have finally released disgruntled quarterback JaMarcus Russell. With the recent addition of Jason Campbell, Russell became expandable.  Since being the first overall ...
April 30, 2010
They happen every year, and make sports fans cringe. Injuries can make or break a teams chance at the playoffs, or even worse, end a players career. So I sat ...