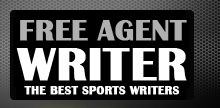 Yankee Addicts
Categories
Featured Sponsors
News published by
April 29, 2010
Sure, Sharper is a great player, future Hall of Famer, great in the locker room, and is currently unemployed. Seems like all the reason to get him to sign the ...
April 28, 2010
  So the NFL Draft is over, and the Detroit Lions look to have had another good draft.    Seems like Mr. Mayhew is making a name for himself. Trading Roy Williams for ...
April 18, 2010
  Let me get this started by saying I'm a writer for the Detroit Lions. I was never a fan of the Seahawks until I moved to a little town ...
April 18, 2010
Seeing how the draft is only four days away, I figure I'd go ahead and make my final "Why They Should be Drafted " post of the year. For those who have ...
April 1, 2010
Its finally April and we're on the brink of the 2010 NFL draft. After many early mock drafts, I've come up with my final selections of who I think the ...
March 16, 2010
Now don't get me wrong. I love what Ndamukong Suh brings to the table: quick feet, strong arms, great ability to get to the quarterback, and most importantly, someone ...
March 5, 2010
Detroit gets the free agent season started by making the first move Friday morning. Reports have come in that Detroit has signed wide receiver Nate Burleson to a five year, $25 million deal ...