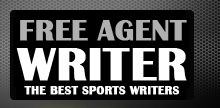 Yankee Addicts
Categories
Featured Sponsors
May 29, 2011 · Chris Foster · Jump to comments


As a fan of a small-market team, I get used to below-the-belt jabs from fans of big city teams. But when the ignorance extends to reporters of major media outlets, that is where I want to actually say something to set the record straight.
On the very well known site profootballtalk.com, there is an interview with NFL Network analyst Albert Breer. In the interview, Breer mentioned a few teams that he felt might be candidates for a move to L.A.
Breer stated that his "darkhorse" choice to relocate to southern California was the Panthers. He went on to state that some reasons the Panthers were in the mix was because of their "lease" on their stadium and the fact that there was no succession plan in place with ownership.
His arguments are so far off base that I don't even know where to start. Here goes my response anyway.
1. The Panthers own their own stadium. Only a handful of teams in the NFL own their own stadiums outright. Most teams do lease a stadium from an entity other than those who actually own the team. Bank of America Stadium was built with zero public funds and the Panthers were the first team in the NFL to sell PSLs (Permanent Seat Licenses), which helped to fund the stadium.
For a so-called "expert" who works for NFL Network to make a statement about the Panthers being able to get out of their lease, when the actually don't even have a lease at all, is sloppy reporting at best and pure ignorance at worst.
2. One really bad season doesn't mean the owner wants to move the team. Any time a team goes 2-14 it hurts. It hurts for the players, the fans and the owner (assuming that owner cares about winning).
Panthers owner Jerry Richardson has talked often about bringing a Super Bowl title to Charlotte and he has spent money in the past to try and win. He brought in a Super Bowl-winning coach in George Siefert, but you can't say Richardson wasn't to trying just because it ended poorly with Siefert. He also spent money in free agency over the years, some of those players paid off, i.e. Kevin Green, Stephen Davis, while others didn't work out, i.e. Sean Gilbert, Ken Lucas.
Again, you might be able to fault management for making poor personnel decisions in free agency, but you can't say ownership isn't trying just because some deals didn't result in long-term success on the field.
3. Jerry Richardson isn't suddenly a bad owner because of the NFL lockout situation. Talk about lazy reporting. Breer didn't mention this, so I am not attributing this idea to him, but in general, several media outlets, as well as fans of many teams, are beginning to view Richardson like people view Mike Brown (Cincinnati) or Al Davis (Oakland) as bad owners.
Before the NFL labor situation started to become a national story and long before Richardson took a lead role in the negotiations, he was viewed as a great owner around the league and especially by fans in the Carolinas.
The biggest beef most fans had with Richardson was that he chose, year after year, to not put the Panthers logo at midfield of Bank of America Stadium. Instead, he has chosen to have the NFL shield, an ode, he says, to say thanks to the NFL for granting him a franchise.
4. Despite being a small-market team, the Panthers are very profitable. When you look at teams in the league that are struggling financially, the Panthers are NEVER mentioned. In 2010, Forbes Magazine, in their famous list of most valuable sports franchises in the world, ranked the Panthers No. 17. Not in the NFL, in the world. Forbes listed the team's value at $1.05 billion, which placed them in the top third of all NFL franchises.
5. People want to make the argument that because Charlotte is "small" we either don't deserve a team or can't financially sustain a team. Folks, that argument just doesn't hold water. Yes, Charlotte is no New York or Chicago, but based on 2010 statistics for cities, Charlotte ranks 17th nationally in population. That puts them ahead of most NFL cities, including Detroit, Nashville, Baltimore and Denver.
Personally, I don't think any team should move to L.A. They had their chance. Several times. Panthers fans, fear not; this franchise becomes more financially stable each year and more and more apart of the culture throughout the Carolinas each year. Richardson believes in what he has built. He is a well-respected and well-liked businessman and owner here. Why would he risk all of that to move to a city that has shown time after time it can't keep a franchise?
Read more NFL news on BleacherReport.com