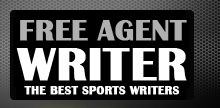 Yankee Addicts
Categories
Featured Sponsors
October 31, 2010 · Andrew Leigh · Jump to comments


New York Jets star defensive back Darrelle Revis is active for the Jets' home game against the Green Bay Packers, and is once again welcoming visitors to spend a Sunday on Revis Island. The All Pro corner back had suffered a hamstring strain in Week 2 while chasing down Randy Moss (then of the New England Patriots).
He returned a few weeks later but was not operating at his usual elite level, and was struggling with the hamstring and getting it back to 100 percent health.
During the Jets' bye week, Revis announced that he's totally healed and ready to go against Green Bay. He will be tasked with covering either Greg Jennings or Donald Driver, two excellent receivers, so his health is an important development for the 5-1 Jets.
...
Read Complete Article at
Bleacher Report - NFL
Article is property of BleacherReport.com