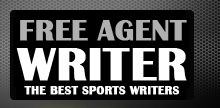 Yankee Addicts
Categories
Featured Sponsors
February 25, 2011 · Chris J. Nelson · Jump to comments


The Miami Dolphins have taken a big step to retaining their biggest free agent, placing the franchise tag on four-year veteran nose tackle Paul Soliai on the Thursday deadline to apply the tag.
Under the terms of the franchise tag, Soliai will be offered a one-year deal worth approximately $12.5 million, or the average of the top five NFL salaries at his position. He made $550,000 in the final year of his rookie deal in 2010.
As the Dolphins' non-exclusive franchise player, Soliai retains the right to talk and sign an offer sheet with another NFL team, but the signing team would be required to send two first-round picks to the Dolphins in order to acquire him.
However, the Dolphins would have the right to match any such offer made by another team, and Soliai's agent, David Canter, has already said the nose tackle will sign the franchise tender as soon as possible while they continue to discuss a long-term deal with the team.
Originally a fourth-round pick out of Utah in 2007, Soliai was asked to start for the Dolphins at nose tackle in 2010 after an injury to defensive end Jared Odrick forced converted nose tackle Randy Starks to move back to his old position.
After three years of under-performing, conditioning and motivation issues and a fairly regular presence in the coach's doghouse, Soliai finally began to realize his potential in 2010 as one of the most dominant, run-stuffing nose tackles in all of football, and set career highs in tackles (39), sacks (two) and pass deflections (two).
The Dolphins' overall defense increased from 22nd in the NFL to sixth in 2010, and the run defense jumped from 18th to seventh due in large part to Soliai's play. Opponents averaged just 3.6 yards per carry and scored just eight rushing touchdowns against the Dolphins in 2010.
Analysis
Twelve and a half million dollars is a lot of money to give a player with three mediocre seasons and one breakout year, but it's a pretty safe decision, as it's only a one-year commitment and the Dolphins really don't want to lose the Soliai they saw in 2010.
Assuming Soliai stays in shape and stays motivated, he will absolutely be worth retaining on the one-year tender, and would potentially be worth a long-term contract that would make him one of the highest-paid nose tackles in the NFL.
Soliai's return likely means the Dolphins will allow versatile lineman Tony McDaniel to leave via free agency, as McDaniel had a breakout season of his own in 2010 and thus will be looking for a more expanded role elsewhere.
With Soliai remaining in the mix, the Dolphins' need for a nose tackle in 2011 is entirely alleviated, and it will allow converted nose tackle Randy Starks to remain at the right end spot, where he excelled back in 2009.
As for 2010 first-round pick Jared Odrick, who missed most his rookie season with foot and leg injuries, expect him to rotate in with Starks and Kendall Langford just as Phillip Merling did during his first two seasons in Miami.
If and when a new Collective Bargaining Agreement is reached and free agency officially begins, the Dolphins will now have 10 unrestricted free agents hitting the open market, as well as two restricted free agents and three exclusive-rights free agents.
Discuss this article on the forum here!
---
Chris J. Nelson majored in journalism at Georgia State University and currently works for Turner Sports in Atlanta. He operates his own Miami Dolphins website, The Miami Dolphins Spotlight, and he can be followed on Twitter here.
Read more NFL news on BleacherReport.com