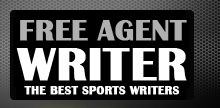 Yankee Addicts
Categories
Featured Sponsors
October 31, 2010 · Andrew Leigh · Jump to comments


Two of the Miami Dolphins' three losses have been of the heartbreaking, down-to-the-wire variety. Surprisingly all the games Miami has lost have been at home, so that tips the scales a bit in their favor heading on the road to face the struggling Cincinnati Bengals.
The Bengals' passing game had its best week since Week 1, as embattled quarterback Carson Palmer threw for 412 yards, but the Cincinnati defense, which was once a strength, allowed 39 points as the Bengals dropped their third straight game.
Now Cincinnati returns home to face Miami, a team that stands around the middle of the pack in both offensive and defensive statistical rankings. Miami's running game, a strength a year ago, has been mostly mediocre in 2010 so far.
Last week, Michael Turner gouged the Bengals' run defense for 121 yards. I expect Ronnie Brown and Ricky Williams to both have solid games against Cincinnati, and Chad Henne will make some timely and important throws to g...

Read Complete Article at Bleacher Report - NFL
Article is property of BleacherReport.com