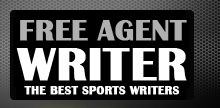 Yankee Addicts
Categories
Featured Sponsors
November 7, 2010 · Andrew Leigh · Jump to comments


The Minnesota Vikings could give Days of Our Lives a run for the title of world's best soap opera, and the plot just keeps on thickening as news has emerged this morning that wide receiver Percy Harvin had to be separated from head coach Brad Childress after an altercation.
According to reports, Harvin and Childress butted heads on Friday during Minnesota's light practice. Harvin had sat out all prior practices this past week after suffering a sprained ankle during Minnesota's loss to the New England Patriots.
It's reported that Harvin limped through the portions of practice in which he participated, drawing criticism from Childress regarding his effort, as well as requests from the coach to have his injured ankle re-tested.
Apparently things escalated from there and the two men were reportedly extremely close to being physically engaged.
It's just another entry in the "Brad Childress Controversy" file that seems to grow by the day. It also seems to ...

Read Complete Article at Bleacher Report - NFL
Article is property of BleacherReport.com