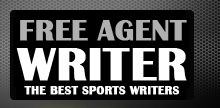 Yankee Addicts
Categories
Featured Sponsors
February 27, 2011 · Scott Pashley · Jump to comments


Martellus Bennett is No. 27 on our list of the top 30 fantasy relevant players that may change teams. You can join the Fantasy Football Spin mailing list to get weekly emails with the fantasy spin on the latest NFL news…
Martellus Bennett is best known for silly antics, like humorous homemade rap songs that overly sensitive people get all huffy about and home videos on YouTube that occasionally reveal his manhood. What he should be known for is the fact that he may be one of the top three blocking tight ends in the game.
Bennett was taken in the second round (30th overall) of the 2008 draft and has played sparingly as the understudy and backup to Jason Witten. At 6'6″, 267 lbs, Bennett is an exceptional blocker and athlete. His 33 catches in 2010 represent his career high, but he has not visited the end zone since his four scores as a rookie.
Even while Jerry Jones publicly takes the position that he has no intentions of trading Bennett, rumors abound that the Cowboys may be willing to part with the talented, occasionally unfocused young tight end. It makes sense to a certain extent. Bennett is underutilized and is entering the final year of his rookie contract. He'll be looking for a pay day in 2011 and the Cowboys are deep at the position. Witten is outstanding and Martin Rucker is an adequate backup.
Dave Halprin of Bloggingtheboys.com points out that John Phillips had essentially taken over the No. 2 TE role ahead of Bennett before being lost for the season before it began. Despite the fact that Bennett has not proven to be quite the pass catcher many expected, teams will certainly express interest, and the Cowboys have areas of need that their TE surplus could help to fill.
The question is who longs for a starting tight end enough to bargain with the Boys for Bennett? The Cowboys may have a tough time getting a good return on investment from a tight end drafted 30th overall (how many teams are willing to give up a top 30 pick for a TE?).
Before last season, Peter King wondered aloud whether the Cowboys would be willing to take a second-round pick for the young TE. His conclusion was no, they would not part with him for a second. The release of Jeremy Shockey may throw a further wrench in the works. He is going to sure up the TE position for some team before Bennett has a chance to be shopped around. Then there are the questions of maturity.
From a fantasy football perspective Bennett is no lock to be a productive TE. There is a very good chance he goes to a team that chooses to take advantage of him as an in-line blocker more than a passing target. Some have even speculated that teams may want to convert him to an offensive tackle. He may also never fulfill his pass-catching potential.
He has shown signs of brilliant talent, but he also displayed a clear lack of focus and a penchant for the dropsies. One thing is for sure, he is not going to amount to much staying in Big D. The Cowboys have done a terrific job of amassing offensive weapons and Bennett is way down the list.
Click here to see some possible landing spots for Martellus Bennett.
Don't miss the past articles on No. 30 Plaxico Burress, No. 29 Roy Williams, and No. 28 Thomas Jones
Read more NFL news on BleacherReport.com