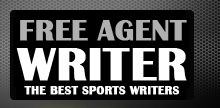 Yankee Addicts
Categories
Featured Sponsors
February 1, 2011 · Matt Shervington · Jump to comments


As I tiredly entered the doorway of my humble abode, I prepared to take a long overdue nap. What changed my plans was that as I frequented one of the numerous NFL forums I visit daily, I found an interesting bit of information. The information was that the Associated Press' Defensive Player of The Year Award was to be handed out tonight, as opposed to the originally planned date of February 4th, 2011.
Rather than nap, I chose to go downstairs and place myself in front of the television. I watched two hours of the NFL Network's "NFL Total Access" program as they continually built up the hype for the announcement. As I did so, I continued to angrily scream at the television saying, "Just give it to Clay Matthews III, since the media gave it to him in Week Two." In fact, Matthews was even on the program for an interview an hour prior to the award being announced.
As they made the announcement and Troy Polamalu's highlight video played over the air, my fiancée sarcastically repeated the aforementioned quote in an annoying, mocking tone. I could not help but scream out in joy as Troy Polamalu had officially won the award despite several Twitter reports—as well as one from the official paper in Green Bay—reporting that Matthews had won it earlier.
This outcome was the opposite of the result that people were looking towards during 2005.
Following the 2005 season, there were many people—especially metrics gurus such as K.C. Joyner and Football Outsiders—who felt that Troy Polamalu should have won this very same award. Although Brian Urlacher eventually won the award, the eventual Super Bowl berth and victory by the Steelers vindicated Troy Polamalu's defensive season for those in Steelers nation.
Having been on the other side of player not winning the award despite a tremendous season, I know how some Packers fans feel. However, as I did a Google search for Troy Polamalu's name, I found several people on Twitter saying Polamalu did not deserve it and Clay Matthews III did. With all due respect, Polamalu was the obviously correct choice and allow me to explain why.
These people argue that Clay Matthews III was dominant from a statistical point of view. Not to say that Polamalu wasn't, but Matthews' statistics for his position was better.
Clay Matthews III posted a statline of 54 solo tackles, six assisted tackles, 13.5 sacks, four run stuffs, four passes defensed and one interception returned for a touchdown.
Conversely, Polamalu posted 49 solo tackles, 14 assisted tackles, one sack, five run stuffs, one forced fumble, 18 passes defensed and seven interceptions with one returned for a touchdown.
From a statistical perspective, the edge has to go to Polamalu. He had more total tackles, run stuffs, passes defensed and interceptions. Granted, the last two numbers should be in his favor, but the first two should not be.
Others that detract from Polamalu winning, state that Matthews was the best 3-4 outside linebacker, whereas Polamalu was not the best safety in the league. With all due respect to those individuals, I would have to say that they were drinking the "proverbial punch" provided from the media from Week Three.
When you compare Clay Matthews III's production in comparison to James Harrison, LaMarr Woodley, Cameron Wake, and DeMarcus Ware's statlines, he seemingly comes up short. Of those five players, Matthews finishes third in tackles, sacks, passes defensed, and interceptions. He did, however, notch a touchdown.
In comparison, at the safety position, Polamalu finished 36th in tackles and tied with a bunch of guys with only one sack. However, he finished first in run stuffs and interceptions, and tied for first in passes defensed. He was tied for second for touchdowns as well.
However, statistics only show you so much and are not the be-all end-all, so let's look at some other arguments.
Clay Matthews III fans also argue that Troy Polamalu missed "too much time" in order to win a major award. However, this is simply countered by the fact that Polamalu missed all of half a game more than Clay Matthews III. In short, Matthews played two more meaningful quarters than Polamalu.
The pro-Matthews side also argues that Matthews was the most important player on the Packers' defense, and they would not be the same without him.
The Packers had a depleted defense due to numerous players on Injured Reserve, including three other linebackers, so Matthews had to be the focal point.
Additionally Matthews' supporters point to the fact that once he left the Redskins game, the Skins offense became competent. The next week, the Dolphins' offense was capable of moving the ball due to the Packers lack of pressure as well.
Finally, his fans say that Matthews' pressure—which doesn't show up on the stat sheet—resulted in double teams that made B.J. Raji and Cullen Jenkins play better.
Those are all legitimate arguments that I agree with. All are strong reasons why Matthews could have been the Defensive Player of The Year in any other given year. Unfortunately for Matthews III though, that impact is not as big as Polamalu's on the Steelers' defense.
Troy Polamalu is clearly the most important player on the Steelers' defense, if not on the Steelers period.
Over the past two seasons Troy Polamalu has missed 13 games. In those 13 games, the Steelers have six wins versus seven losses. Keep in mind this is the same team that went 3-1 without their elite quarterback earlier this year, behind a defense led by Polamalu. With Polamalu in the lineup over that span, they are 16-4.
Additionally, in the 13 games without Polamalu, the Steelers have only had 13 turnovers. In the 19 he has played, they have had 38. Troy's presence literally doubles the turnovers per game for the Steelers defense.
Without Polamalu, the Steelers defense allowed 21.5 points per game. With him in the lineup, they give up a whole touchdown less at 14.5 points per game. Those 14.5 points per game make the Steelers' defense good enough to play in Super Bowls, as the last two seasons that Polamalu has been healthy, the Steelers reached the Super Bowl.
So there you have it, three strong reasons why Troy Polamalu was the deserved Defensive Player of The Year. Sure, Clay Matthews III had a nice resume for the season, but there are at least two viable arguments against Matthews III winning it all. There should be none against Polamalu, other than missed time, which can also be used to argue against Matthews.
Troy Polamalu, welcome to a very elite club. You've earned it.
Read more NFL news on BleacherReport.com