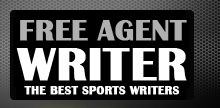 Yankee Addicts
Categories
Featured Sponsors
News published by
September 10, 2011
Adrian Peterson is the NFL's best running back. Sorry, Chris Johnson, It's true. Ask any (unbiased) fantasy football and NFL fan out there. They'll tell you the same thing. There ...
May 21, 2011
There may not be a division with better rivalries than the storied AFC North. Every fan base loathes the other three, which makes it one of the most intense divisions ...
May 1, 2011
It is a special day in the life of a football player when their name is announced in the NFL draft—regardless if it is the No.1 overall selection or the ...
April 26, 2011
2011 NFL Mock Draft Arizona Finds Their Next Franchise QB Larry Fitzgerald and Arizona fans will be happy to see the Cardinals select Blaine Gabbert No. 5. He appears to ...
April 26, 2011
2011 NFL Mock Draft Da'Quan Bowers Rushing to the Pound Da'Quan Bowers has seen his draft stock tumble mightily this draft season due to injury concerns and a poor Pro ...
April 26, 2011
The 2011 NFL Draft is just a couple of days away.Everybody has made the rounds on the Internet searching for the hottest news, rumors and speculator analysis. We want every ...
April 26, 2011
2011 NFL Mock Draft Nick Fairley the Next Albert Haynesworth? Nick Fairley started the offseason as the No. 1 overall selection. His stock has dramatically fallen due to character and ...
April 22, 2011
The 2011 NFL Draft is officially less than one week away. This is when things heat up as more information, true or false, is thrown around. Everyone is searching for ...
April 21, 2011
With the NFL draft held in New York each year, the most entertaining part of the draft often isn't even who is selected, but instead, the reaction of the New ...
April 20, 2011
The most important position in the NFL is the quarterback. They are generally the leader of the team and can make or break any single game on one decision. Every year ...