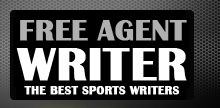 Yankee Addicts
Categories
Featured Sponsors
News published by
December 18, 2011
Everyone in the world, much more so the sports world, knows who Tim Tebow is. The super religious quarterback who has helped lead multiple 4th quarter and overtime drives this year ...
January 28, 2011
Earlier today it was released that the Tennessee Titans' front office is meeting with Jeff Fisher to decide on how he will be let go from the team.It ...
January 20, 2011
On Sunday Aaron Rodgers will lead the Green Bay Packers into Soldier Field to take on Jay Cutler and the Chicago Bears for the NFC Championship and a trip to ...
January 13, 2011
With one week of the playoffs in the books and four teams sitting at home heartbroken, it is time to send four more hopeful teams home with nothing more than ...
January 6, 2011
The Tennessee Titans have announced they will trade or release Vince Young this offseason. This is not necessarily a sign they are keeping Jeff Fisher, because they haven't finished evaluating ...
December 19, 2010
The Tennessee Titans started out 5-2 and one of the hottest teams in a crowded league. Then out of nowhere everything fell apart. Their star receiver gets injured along with ...
December 7, 2010
The Denver Broncos have recently announced they have fired second year coach Josh McDaniels. The Broncos have promoted running backs coach Eric Studesville to be their interim head coach. Denver becomes the ...
December 6, 2010
The 2010 NFL season has been a roller coaster ride for the Tennessee Titans as a team, and that is mostly because of quarterbacks.This slideshow will show out of the ...
December 5, 2010
The NFL Players Association told players to start saving the money from their game checks in order to prepare for a lockout next year. There have also been reports that the ...
November 25, 2010
As many people already know, Tennessee Titans offensive coordinator Mike Heimerdinger has left the team to undergo chemotherapy. He will be out at least a week. At the same time, everyone ...